Nebraska Turkey Hunting Outfitter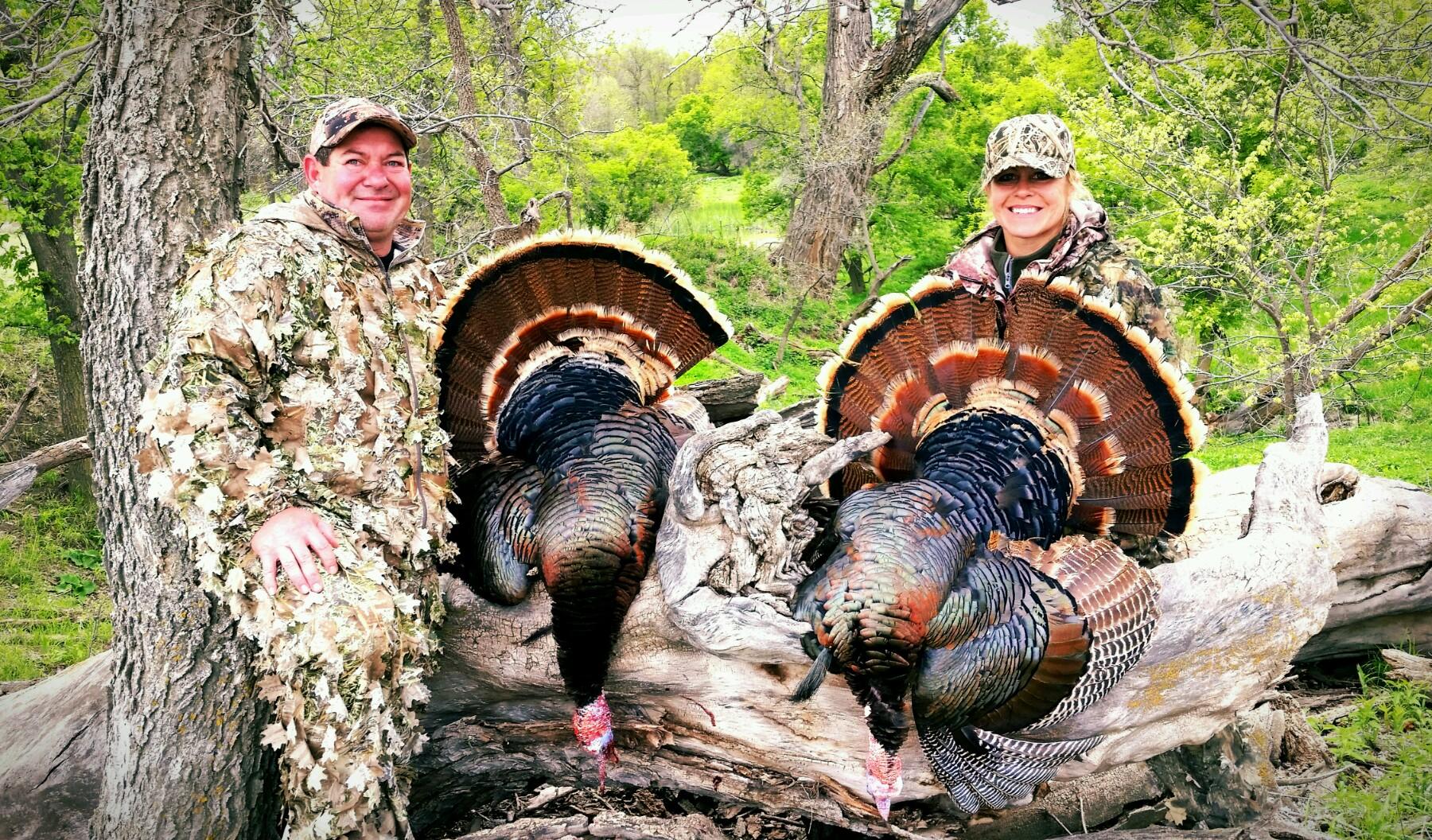 Nothing is better than a big ol' Nebraska Tom strutting his way to your decoy setup. The sound of the gobblers in the morning sounding off!!! Our properties have countless numbers of turkeys and the ratio of Toms to Hens s is like none other you will find in Nebraska. Our team of Nebraska turkey hunting guides & outfitters have spent countless hours in the field understanding & patterning the birds so we can put you right in front of them this spring turkey season. We have pop up blinds set up and all you need to do is show up and get ready to shoot because you will have many opportunities with gobblers right in front of you. Contact us today to get your next Nebraska Turkey hunt booked with our outfitters!.
Listen to what some of our hunters have to say:
"Had an awesome time hunting with Birds & Bucks Outdoors. The people were great and the hunting was top notch. Killed our limit with ease" – Kameroon Keen, Old Town, FL
"I have been Turkey Hunting most of my life and I have NEVER seen that many turkey's in one area!!!!!" – Jesse Farley, Denver, Colorado
"Our turkey hunting trip was outstanding. Cash has built a strong working relationship with the landowners who were all very hospitable. The lodge was clean, had all the comforts of home, and 10-15 minutes from all properties. As for the hunting, we were in turkeys everyday and had very good success" – Burt Bush, Midland, TX
Nebraska Spring Turkey Hunting Seasons are as follows:
Archery: March 25 – May 31
Youth Shotgun: April 08 – May 31
Shotgun: April 15 – May 31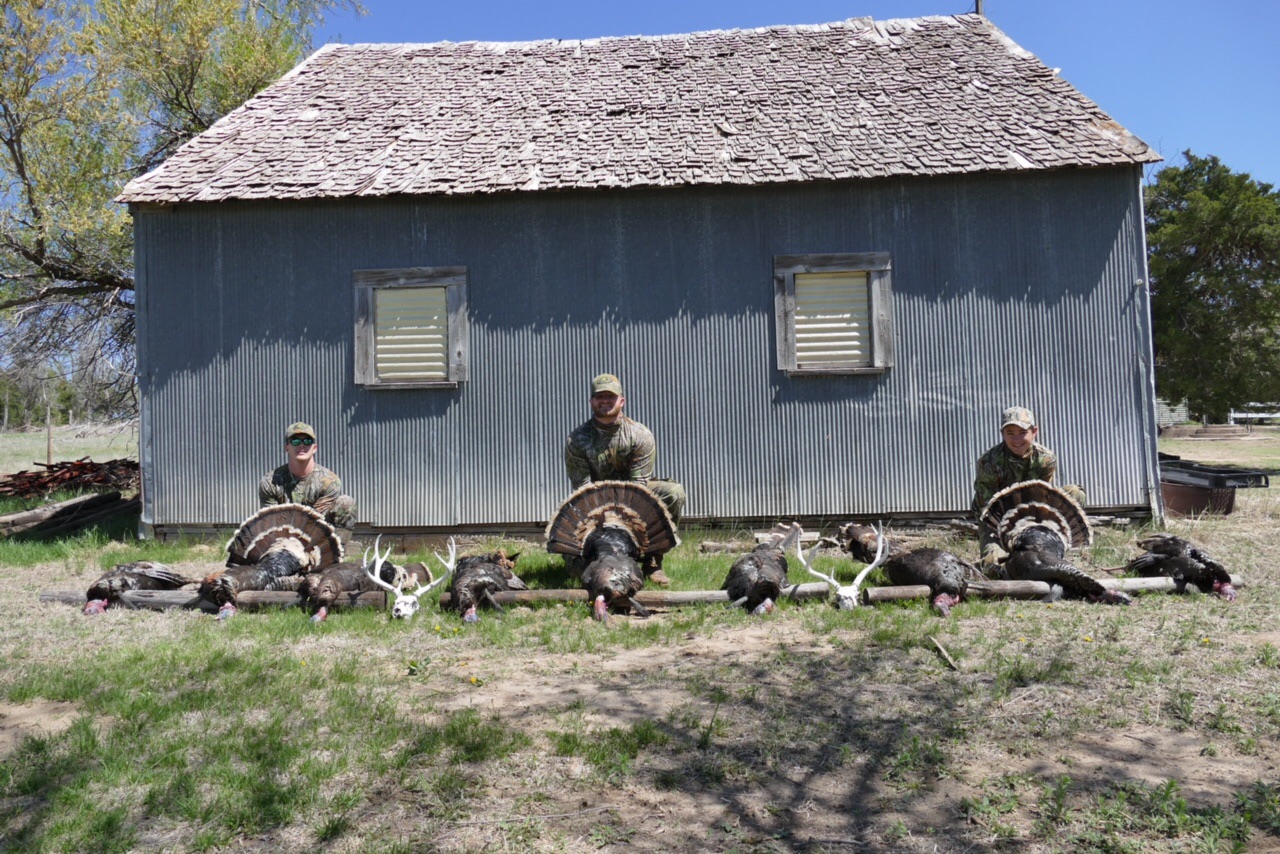 Nebraska Guided Turkey Hunt Packages
Depending on which Turkey hunting package you choose, all guided Turkey hunts have a client to guide ratio of 2X1, include lodging at the B&B lodge, and give you the opportunity to harvest 2 turkeys (3rd turkey is a little extra). Feel free to ask your outfitter as many questions as you want. We're in the business of teaching as well as harvesting.
2-Day Package. $695 per gun

2X1 fully-guided hunt
2-days hunting, 2-nights lodging, 1 turkey
Hunt for additional turkey $200
Add a 3rd day & additional turkey $300
3-Day Package $995 per gun. $1895 2-gun price. Youth hunters $495 with fully paid adult.

2X1 fully-guided hunt
Includes 3 nights lodging, 3 days hunting, and 2 turkeys
Hunt for a 3rd turkey $200
Texas Turkey Hunts!!
We also have Rio Grande turkeys in Texas and fully guided hunts to get after them. These hunts take place near Haskell and pick up from the Abilene airport is available. Price is as follows:
2-day, 3-night package $1200

2X1 fully-guided hunt
All meals and lodging included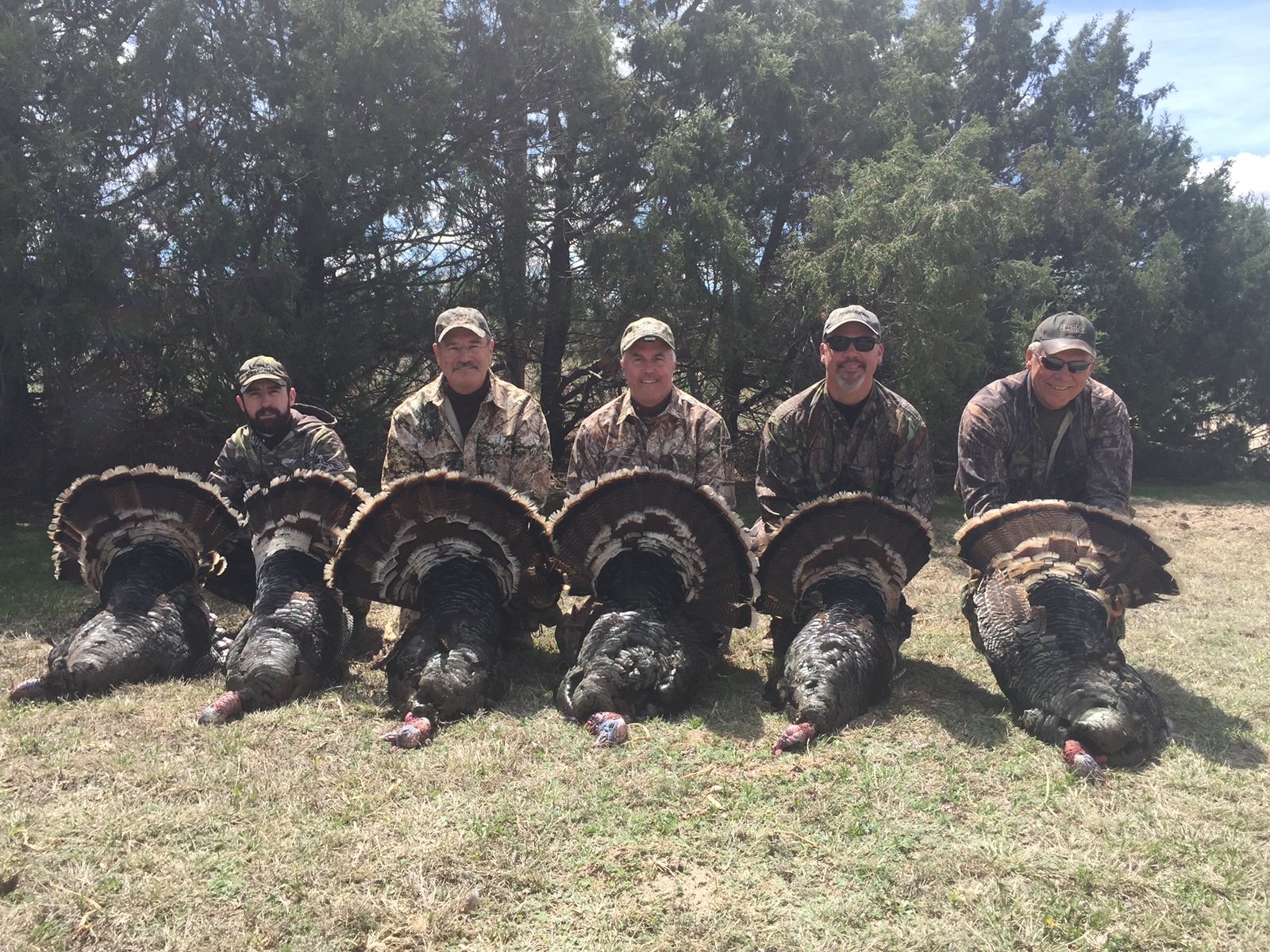 B&B Lodge
Located in the peaceful countryside approx 15 minutes from the town of Hayes Center, this rustic yet comfortable home has 3 bedrooms, 2 bathrooms, and can sleep up to 6. The laundry/mud room will help you keep things nice and clean. A full kitchen has everything you'll need and everyone can sit down in the dining room to chat about the days events. If you have anything for the grill, feel free to use the outside BBQ. The living room has comfortable couches as well as DISH network for your entertainment. We do recommend you keep the tv turned off though and enjoy what nature has to offer!
Nebraska Spring Turkey tags are $8 for youth hunters, making the experience all the more palatable for parents. Adult tags are $108. For more specific information on Nebraska Spring Turkey Hunting or to purchase tags, visit the Nebraska Game & Parks website.